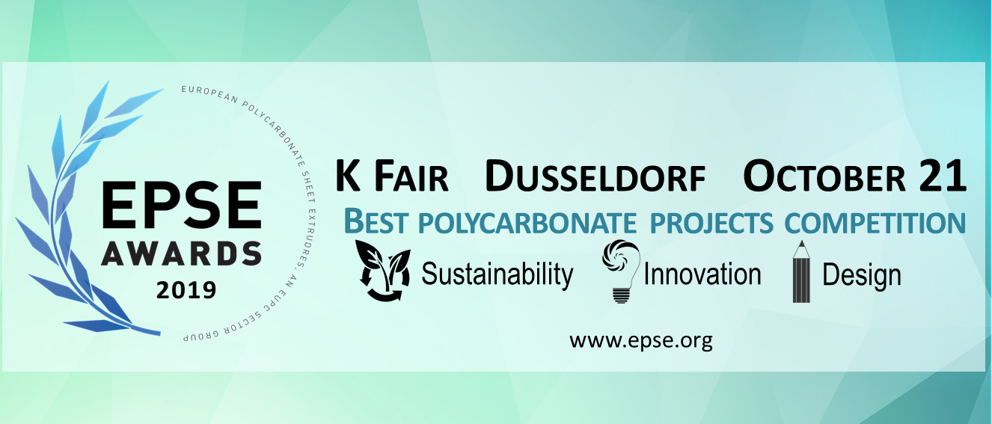 EPSE AWARDS 2019
Do not miss the opportunity to compete for the prestigious polycarbonate design/architecture prizes!
EPSE – the trade association representing polycarbonate sheet suppliers and producers in Europe – is proud to present the 9th edition of its EPSE AWARDS.
Since 2007 EPSE organizes the awards competition to recognize the most innovative, sustainable and best design projects made out of polycarbonate. The aim of this event is to promote the material's unique properties and the variety of applications in which it can be used.
Who can compete?  
Any kind of project in which material coming from one of the EPSE members was employed can be submitted; EPSE customers can directly submit their projects.
How can a project be submitted?
Please submit your project(s) here: https://goo.gl/forms/8BIaQKo2La0I4IAn1
The deadline for submissions is 15th of June 2019.
Judging process and awards ceremony
In a first step the jury panel judges the projects individually. Afterwards the pre-selected projects are published on the EPSE website where the public can vote for the best project in each of the three categories.
The official results will be announced during the EPSE AWARDS 2019 Ceremony on October 21st at 14:00 during the K Fair in Düsseldorf. The event will take place at the booth of Trinseo who kindly sponsors the ceremony.