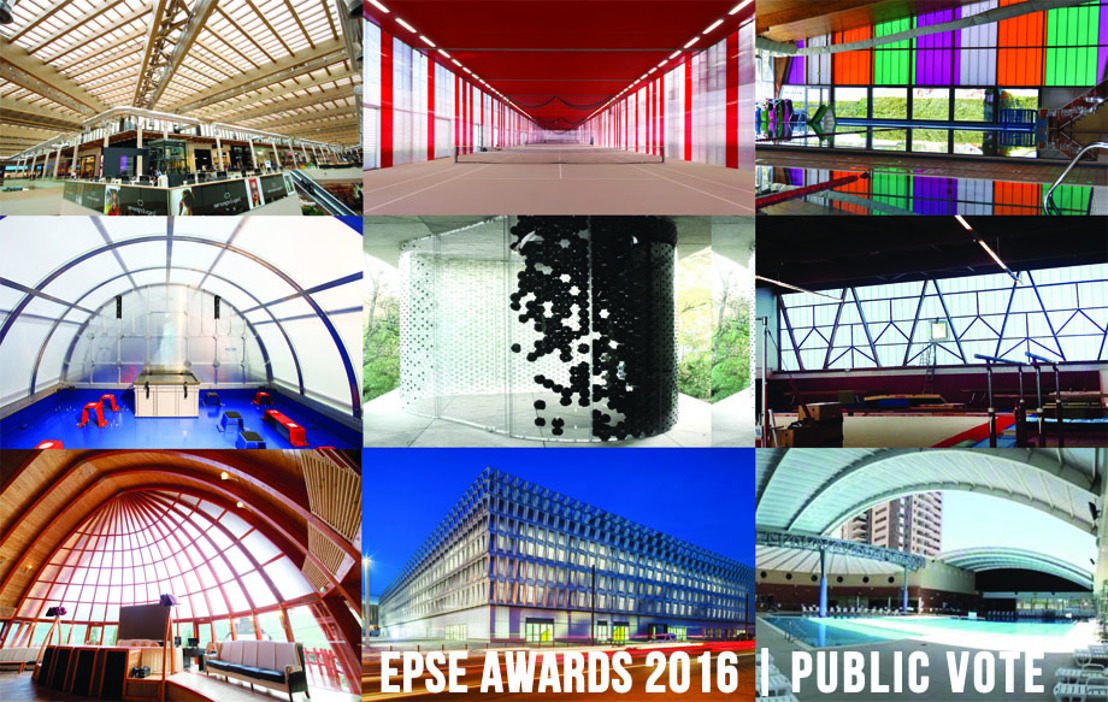 You can now vote on your favourite polycarbonate project!
EPSE AWARDS COMPETITION 2016
Tuesday, August 30, 2016 — The EPSE Jury Panel has pre-selected 3 projects in each of the categories: sustainability, innovation and design, in total 9 out of 14 projects. Have your say in the final result by voting on your favourite project in all of the 3 categories! Vote today!
The jury made a selection according to a detailed judging criteria which is based on a grading system. The projects which received the highest grades were qualified for the public vote phase. You can now vote until September 19th.
Here below you will find a list of the 9 pre-selected projects with the quotes from the Jury Panel.
SUSTAINABILITY
IL CENTRO - Arese shopping center - dott.gallina | An extremely intelligent and well researched material application
Jules Ladoumègue Sport Complex - Dan Pal | Very sophisticated and elegant way of combining factors like sound protection, sun protection and combinations of program in a simple and esthetic way
Modane Swimming Pool - DS SMITH Plastics | Environmental aspect was evidently a guiding consideration in the material selection. The relationship with the water is beautiful.
INNOVATION
Daher – Airfreight Container - Brett Martin | Innovative idea for replacement of traditional containers, flexible and lightweight solution
Breathing Skins Showroom – Covestro | The structure is intelligent in performance and design. It is peculiar and original in being so.
Sport Hall - DS Smith Plastics | Nicely invented that the combination of sheets results in a high performance facade at various levels.
DESIGN
The Four Seasons Hotel - Brett Martin | Unique, bold and timeless. Stunning, striking and inspiring. A beautiful example that "natural" materials can go very well with plastics.
CLUJI - Multipurpose Center - dott.gallina | Beautiful way of creating a PC facade and still create a heavy, East European style building
Swimming Pool Ramle - Plazit Polygal | Simple but sculpturally elegant. The building feels effortlessly beautiful.
VOTE NOW! This will not take you more than 3 minutes. Please note that you have to first register in order to cast a vote. If you voted last year your account still exists and you need only to log in (if you have forgotten your password you will be able to re-set it).

WINNERS ANNOUNCEMENT
The winning projects will be announced during the EPSE AWARDS CEREMONY which will take place on October 21st at the K Fair in Düsseldorf. You can participate to this event free of charge (number of places is limited): registration link.
EPSE AWARDS 2016 Jury Panel:
FRÉDÉRIC MIDY, CEO ALIAXIS & CHAIRMAN EUPC B&C DIVISION
ALEX CHINNECK, ARTIST & DESIGNER
ULRIKE MAU, EDITOR-IN-CHIEF OF PLASTICS INFORMATION EUROPE
PAUL VAN DEN BERG, ARCHITECT & FOUNDER OF ATELIER ARI
#EPSEAWARDS16